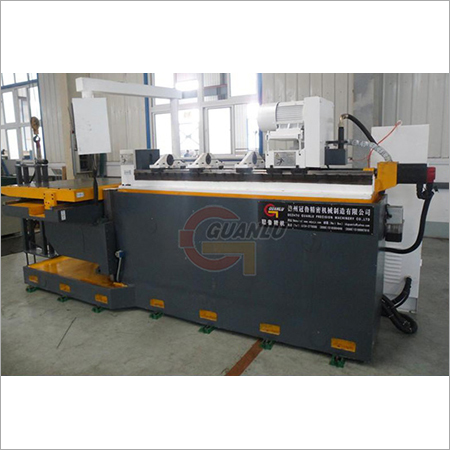 Product Specifications
Yes

Casting iron and steel

Automatic
Product Description
ZKB2102 Three Coordinate Deep Hole Gun Drilling Machine
ZKB2102 is a triple correlate deep cavity gun boring machine, which is ideal for operating it with particular sharped workpiece. The range of hole diameter and depth can be produced in compliance with the requirement of customers'. This machine is primarily utilized for hydraulic tools, glass molds, rubber molds of holes for water, heat, oil and so on.
Technical gun boring is provided with external chip elimination system, which can be operated on correlate deep holes sample-piece.
The diameter of deep hole varies from φ4mm to φ20mm.

500mm is the optimum depth.

The system of CNC is FANUC 0i MATE or GSK
Description of the Machine
Our ZKB2102 deep gun drilling machine is utilized for boring two or three coordinate cavity. It features optimal accuracy, high automation and exceptional efficiency. The machine chooses external-chip separating technique via single continuous boring instead of conventional boring, reaming and expanding process and attain the machine surface roughness and precision simultaneously.
The accuracy of deep cavity is IT7-IT10, unevenness is Ra3.2-Ra0.04 um, the middle aligned line is less than 50 micrometer every 1000mm.
Our machine is regulated by CNC system that is equipped with operation of both mechanical recycling and single action, so that it will fulfill the demands of small as well as large batch. It can also bore through step hole and blind holes. The machine is broadly used in the sector of automotive, military, automobile and aeronautics.
Processing process of workpiece
Attach the workpiece on operational table.

Pneumatic system regulate guide room of the guide mount.

Outset the chilling system powerful pressure pump unit.

Kickoff the boring bar box, propel the driller rotary.

Z line infeed process drive driller infeed.

Subsequently boring to the setted place, coolant stop, driller return and unopened guide suite loose.

X and Y axis shift to the next boring place, repeat 2 to 7.
Note: 2 to 7 procedure is wholly regulated by CNC.


Fundamental Structure of the Machine
Machine structure

Boring bar box

Z axis infeeding system

System of coolant

Oil temperature regulator machine

Mechanical chips separation device (note: Material of steel and iron utilize magnet chips dismissal device, while material of copper material is use belt for scraping, kindly tell which you desire)

T operational table on x-axis and elevator on Y-axis

System of pneumatic regulation and central lubrication

Guide mount system

Boring bar reinforcement system

GSK or FANUC CNC check system
Extra Parts
Oil chamber filter paper and strainer device

Outpouring valve
Machine Mainly Parameters

Specification

Parameters

Remake

Working capacity

Drilling diameter range

Φ4~Φ20mm




Drilling max depth

500mm




Machine character

Z axis

Infeed speed range

5~500mm/min

stepless

Rapid speed range

3000mm/min




X axis

Travel

650mm

(make according to customer request)

Y axis

Travel distance

500mm




Drilling bar box

Speed range

500~6000r/min

stepless

Motor power

4KW

Inverter motor

Machine loading weight

500kg




Hole length-diameter ratio

≤100




CNC system

FANUC or GSK

Coolant system

Coolant system pressure range

0~8MPa

adjustable

Coolant system flow range

0~63L/min

adjustable

Filter accuracy

20μm




Oil chamber volume

800L



DEZHOU GUANLU PRECISION MACHINERY CO., LTD.
Other Products in 'Gun Drilling Machines' category
Contact Details