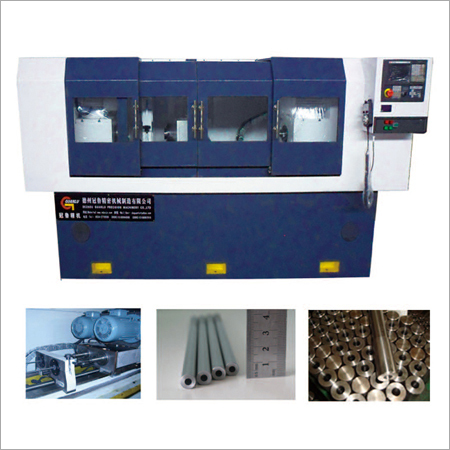 Product Specifications
Yes

Automatic

Casting iron and steel
Product Description
Deep Hole Gun Drilling Machine is primarily applied to weapons manufacturing industry, therefore this drilling machine is called Gun Drill. As the consistent development in science and technology of Deep Hole drilling mechanism, the use of carbide tips extends the service life and cuts down the total cost of process. Dezhou Guanlu Precision Machinery Co., Ltd., makes arduous efforts to make the deep hole drilling process more efficient, cost-effective, convenient and optimal-performance.
Deep Hole Gun Drilling Machine is also preferably used in other industries like Automotive, Aerospace, Medical Equipment Manufacturing, Oil & Air Pressure, Structure Fabrication, Mold, Tool, Fixture.Deep Hole Gun Drilling Machine is a efficient solution for deep hole processing, the application of the gun drill can ensure the optimum processing, through assuring the accurate hole position, high rotational speed, linearity, great coaxiality, and the seamless surface finish and minimal deviation. Efficient in carrying out deep hole conveniently of various forms of solid metals. In application, the machine performs hinge processing first in place of process after drilling owing to cutting-edge and reliable technology.
The machine can perform drilling on different metals such as Aluminum, Cast Iron, Copper, Carbon Steel, Steel and other alloys, it embodies capacity to bore, drill, ream once completed, the blade of knife guarantees excellent precision (grade IT8-11), better linearity (0.16-0.5mm/1000mm) and minimum roughness (Ra6.3-Ra0.8) hole. The speed of drilling line spans from 30 to 100 M / min or more. Deep Hole Gun Drilling Machine is basically used for drilling holes with diameter ranging from 1.5mm-38mm, the length ratio and diameter of drill ensures X150 times (it is the maximum drilling depth), the coolant is pumped through spindle and is centered to reach the cutting part. It can also drill on iron by the groove drill of V type.
The cutting tool is a fluted solid rod that has a hole bored down the center. Coolant is pumped through a hole in the inside of the drill. It flows back outside the drill, through the flute, bringing the chips with it.
DEZHOU GUANLU PRECISION MACHINERY CO., LTD.
Other Products in 'Gun Drilling Machines' category
Contact Details