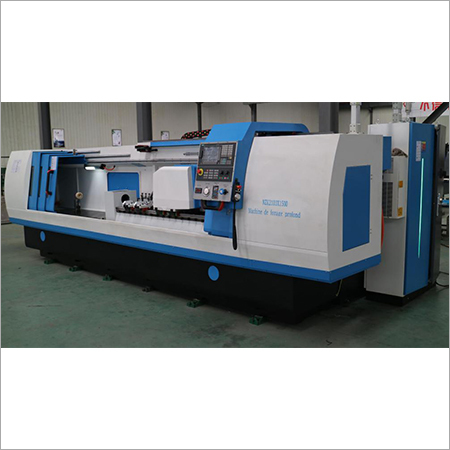 Product Specifications
Yes

Casting iron and steel

Automatic
Product Description
Machine Brief :
Drill hole method: it adopts Gun drilling technology.

Height of this machine from its 1500 mm long T-slot working table to its spindle center is 240 mm. Its middle T-slot has 18H7 width.

Infeed guide rail of this equipment belongs to HIWIN brand and this guide rail has sealed side block.
This drilling solution is designed with four doors that are equipped with safety guard and synchronous belt and SIEMENS servo main motor controlled drill bar box spindle. This 5kw main motor is capable of detecting stepless speed. Spindle of this machine tends to rotate at 500 to 5000 rpm speed in every minute.

Rotary joint of this machine belongs to Deublin brand and this component is located at the rear end section of drill bar box spindle. Components of this machine have been installed on the front end part of drill bar box spindle sans using any drill handle connecting sleeve. Four press screw holes of frond end section of spindle provide necessary structural support.

Servo motor of this system works on the principle of cutter infeeding movement based technology. It is designed with sealed screw nuts, ball screw and adjustable coupling.

Two sets of drill bars equipped structural support of this machine is attached with a common chain.
In built guide sleeve of guide frame can move in axial direction by covering 30mm distance under hydraulic pressure for securing and detaching work pieces.

Coolant section of this equipment consists of necessary parts like liquid level controller, paper filter and high pressure pump. This section has vital role in modifying cutting oil flow and pressure as per dimension of drilling holes. The operator can easily view pressure and flow data.
Oil returns to the storage tank of coolant through a slot which is located between machine bed and infeed sliding table.
Oil retention tank of this machine is situated under machine bed and coolant oil tank.
This drilling system is equipped with SIEMENS-808D CNC.

Machine main parameters : <!-- @page { margin: 2cm } P { margin-bottom: 0.21cm } -->
Specification

Parameter

Remark

Working capacity

Drill hole diameter range

Φ5~Φ30mm

-

Drill hole max. depth

1500mm

-

Workpiece max. length

1500mm

-

Machine Character

Z axis

Infeed speed range

5~500mm/min

Stepless

Rapid move speed

5000mm/min

-

Infeed motor torque

10Nm

-

Drill bar box

Max. rotation speed

5000r/min

Stepless

Motor power

5KW

Servo spindle motor

Coolant system

Coolant system pressure range

1~10MPa

Adjustable

Coolant system flow range

6~150L/min

Adjustable

Filter accuracy

20μm

-

Oil tank valume

>1000L

-
Other Products in 'Gun Drilling Machines' category
Get in touch with us